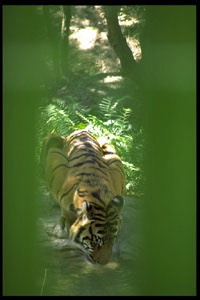 Zoological Design
has been an actively-evolving profession for over a century, from the royal menageries of Europe to the "landscape immersion" concepts of today's natural habitats. With an increasing conservation awareness, zoos aim to educate their visitors of the integrated, natural, social and ecological lives of each species on display, and to inspire a conservation awareness for that natural system.
Designing these types of complex landscapes requires immense planning and integration of multi-functional criteria. Ursa can offer the specialized experience needed to conduct planning workshops, develop Project Programming, Design and Construction Documents with particular care for the captive animal populations and the people who manage them.
Biological Criteria Programming:
These include detailed program requirements for design criteria based on the biological and psychological needs of the specific animal. Behavioral enrichment, social needs, temperature requirements, as well as physical size and abilities of the animal are considered.
Habitat Design:
These include interior/exterior animal landscapes and exhibit furnishings such as artificial rocks, caves, water features, trees, landscape simulation and nontoxic plant materials, substrates, and perches. Extensive scale modeling and detailed site sketching are required to provide direction for each special exhibit contractor.
Animal Security Systems:
These include interior/exterior animal barriers, caging, doors, observation, and day-to-day management systems. Continually changing standards for keeper safety and animal welfare require more complex materials, equipment and layouts. This element requires considerable design time with keepers and trainers.
Animal Life Support Systems:
These include special requirements and systems for medical treatment, observation, training, isolation and quarantine. Air filtration, heating, cooling and ventilation also requires specialized layouts and equipment needs.
Interpretive/Educational Design:
These include developing educational storylines and messages related to the interpretation of the exhibits. Elements include coordinating interior viewing and interpretive galleries, with extensive lighting, view glass and visitor interface.
Project Briefs:
Zoological Design