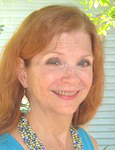 Gail Y. Lash, Ph.D

Dr. Gail Lash is a biologist, zoo design consultant, ecotourism planner, peace teacher and writer. She uses her organizational, analytical and people skills for community development and global peace work. Her biological, animal behavior and economic policy background is used to create environmentally and culturally sensitive developments which conserve natural ecosystems while enhancing the lives of people close to the land.
Since forming Ursa International in 1994 with her husband (zoo designer/landscape architect), Nevin Lash, Gail brings to the company her knowledge of captive animal husbandry, behavioral design criteria, her skills in evaluation and research design, international tourism development, and peace principles and components. Her zoo design work has taken her to Italy, Slovenia, Jamaica and the USA.
Gail worked from 1991 to 2006 in ecotourism planning, specializing in community-based ecotourism development and natural resource economics of communities in and near private and public forest reserves and parks.  Working with individuals, community focal groups, and national/international agencies, Gail facilitated participatory consensus of community goals and developmental options to uplift human spirits, economies, and the natural environment. She is still available for consultation in these areas – and is concentrating mainly on peace work since 2003 to now. Her ecotourism and peace work has taken her to Madagascar, Belize, Indonesia, Ecuador, Brazil, Panama, Costa Rica and USA.  She has presented at conferences in USA, Belize, Ecuador, Thailand, Brazil, South Africa and The United Nations.
Previous to Ursa, Gail worked thirteen years as zoo staff: eight years as an Animal Keeper at Houston Zoological Gardens and Los Angeles Zoo with many species, and five years at Zoo Atlanta as a Biologist coordinating the design and construction of naturalized habitats for zoo animals and visitors.
Additionally, her theatrical experience has contributed to the design of creative and interactive interpretations of conservation concepts for the general public.  Using her training in theater, Gail has written and acted in conservation and peace skits, and has given many conservation education and peace talks to students and the general public. 
Gail's Ph.D. dissertation, "Sustaining Our Spirit, Ecotourism on Privately-Owned Rural Lands and Protected Areas", along with some of her ecotourism reports, are available for download on Ursa's Publications page.
Over the last ten years, Gail has integrated Peace Education into the focus of Ursa, training children and adults in peace principles and tools. She believes that gardens, zoos, and businesses can become known as "Places of Peace", where the human spirit can soar and dialogue towards creating a better, happier world can happen. She encourages all to be a part of the World Peace Trails. See http://worldpeacetrails.com/