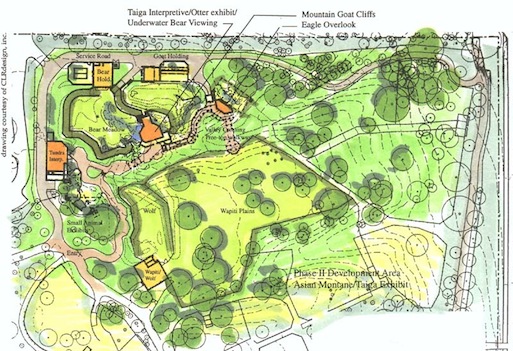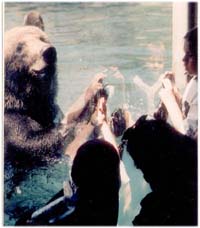 The Northern Trail Exhibit at Woodland Park Zoo, Seattle, Washington, is an 11 acre stie featuring taiga, montane and tundra exhibits and interpretive sequences in two phases. The design of this exhibit utilized interactive workshops to integrate user programming and participation. The first phase completed in 1994, included exhibits and holding facilities for kodiak bear, river otter, mountain goat, marmot, wapiti, snowy owl, grey wolf, marten, porcupine, red fox, bald eagle and northern birds.
Other features include a Tundra Interpretive Gallery which simulates a earth berm "Winter House" , Taiga Interpretive Gallery providing underwater viewing of the bears and otters and a tree-top walkway giving access to the mountain goat cliffs and eagle perch. The use of native plant material and sculptural elements integrate the total immersion experience for the visitor. Animal behavioral requirements are met by use of fish feeders for the aquatic environments, as well as the orientation of the goat cliffs to allow for shady resting perches high above the visitor.
Northern trail received the American Zoological Association "Exhibit Award" in 1995.