Polar Bear Expansion OPEN! October 2014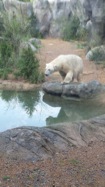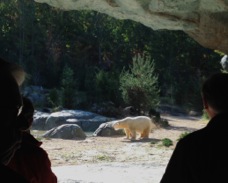 North Carolina Zoo has officially opened their Polar Bear Expansion Habitat! The story will be posted in my blog once the smoke clears. But believe me, to build anything in the last many years of any size takes enormous commitment to an uncertain future. In Polar Bear, especially - to be able to open WITH 2 BEARS when all prior indications where that we'd have to house Tigers! or Grizzlys!

This is a Polar Bear Habitat - and now it's home to Patches and Anana, two old gals with checkered pasts - but happy to be here. What Bear wouldn't! The exhibit depicts a taiga/tundra ecotone, where climate change is affecting the polar bear's range finding them looking for food in odd locations. At this North Carolina Zoo site, the forest was going to be visible one way or the other, so we choose to incorporate it into the borrowed landscape.

Congratulations NCZoo and their Staff, and the Design team of HH Architecture, CLH Civil Engineers, TJP LSS and all people invoked in making this happen, including the Governor of North Carolina who believed in the zoo enough to fund this project in 2008, when no-one funded anything.


Enjoy some opening day photos:



from the open moat view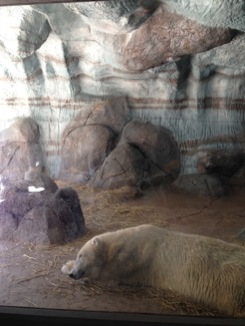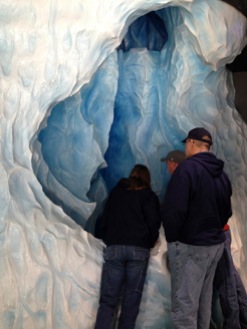 At Bear's Ice Cave 'cool spot' (l), Mulan ' melting glaciers' experience in Visitor Ice Cave ®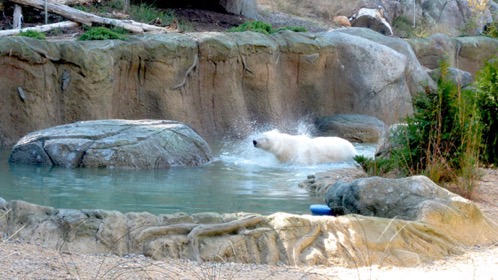 Shake it off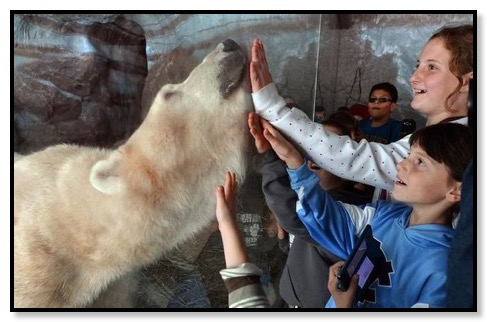 From Ice Cave viewing (photo credit: newsobserver)
Click photo to go to Opening News Article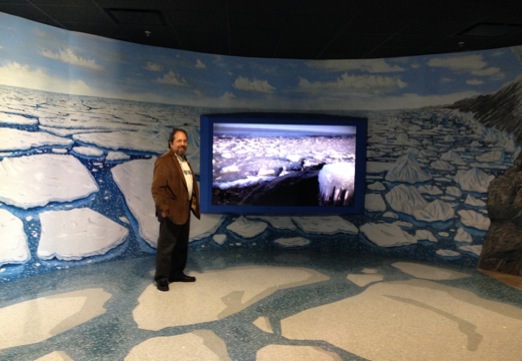 Nevin at entry to Ice Cave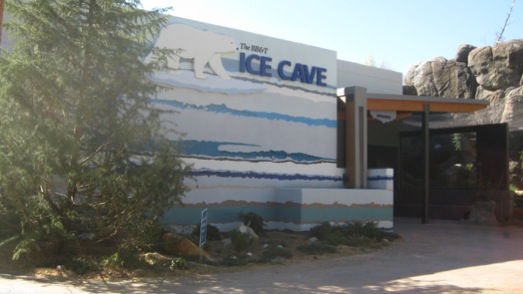 Ice Cave Exterior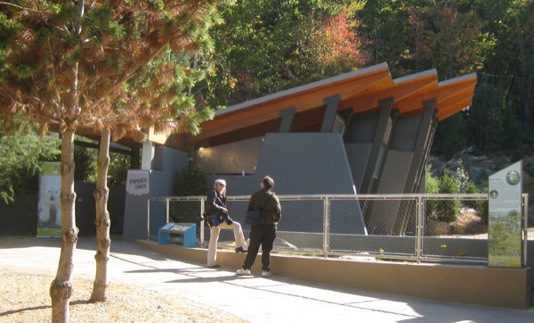 Piper's Den interpretive and moat view plaza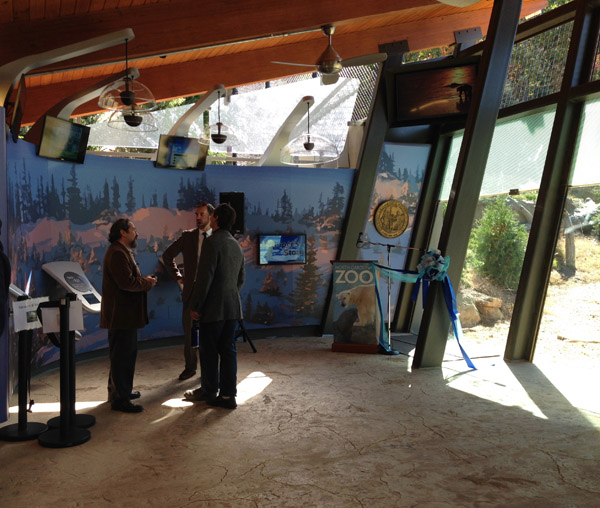 Interpretive building Inter-actives and viewing area





from the interpretive building view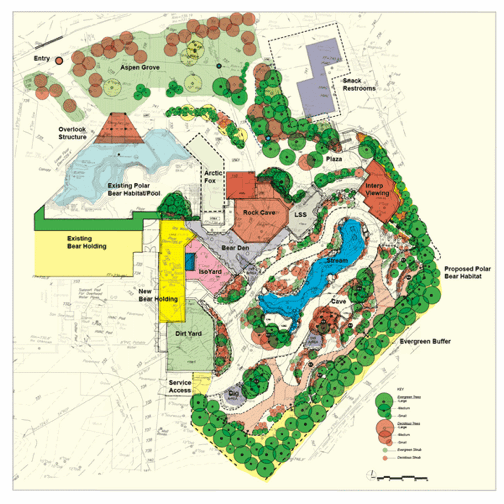 Site Landscape Plan

Site Section

"You and I have been in sync on several matters. I always carefully consider your suggestions because I know you understand things from my point of view."

Jeff Owen, Keeper Supervisor: Polar Bear, North Carolina Zoo


Improving on the Standard

The Polar Bear Exhibit Expansion is designed to move the existing Polar Bear facility into the 21st century, complying with the Manitoba Polar Bear Housing Standards to allow the zoo to receive Canadian Bears in the future. For more information on this major renovation of the 20 yr. old Exhibit at the North Carolina Zoo, click link to see to see 'old' Exhibit images.

The existing 6,300 sf exhibit is 90% gunite-covered and is mostly comprised of a large pool, with great underwater viewing as well as a sunny overlook terrace. The new exhibit connects to this exhibit through an "ice cave" that is visible from a new viewing blind that has over large glass panels for viewing into the new 20,000 sf upland Tundra exhibit. The new exhibit has a shallow water feature, waterfall, and rocky bluffs. An interpretive building provides a long view down the length of the exhibit (over 200 ft), and multiple computer kiosks and flat graphics that talks about the story of Piper the Polar Bear and Climate Change. There is an additional 1700 sf holding building to accommodate a maternity suite, isolation den, Medical holding and off-exhibit holding for the male. The existing holding was renovated to enlarge individual cells to above standard size. The complex can be managed as two separate enclosures or as one joined exhibit depending on the population and management requirements.

Mr. Lash was selected to conduct a design workshop and produce concept planning and fundraising documents which were used to successfully raise the funds. HH's design team was selected with Ursa maintaining the Design Lead role responsible for overall zoo design and documents for Zoo-built features including, Landscape, Rockwork and Exhibitry, Caging as well as Site Planning and details for visitor areas. Construction began November 2010 with expectations for completion March 2013- but in the end was complete October 2014. This is the fourth project Ursa has worked on with the North Carolina Zoo.