Italian Brown Bear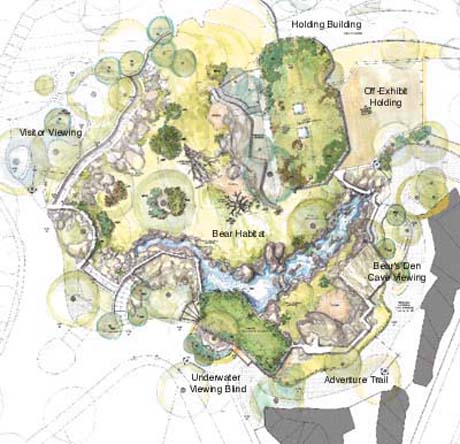 A Better Brown Bear Biome

Opened in September of 2000, the Brown Bear Habitat represents the first exhibit designed by Ursa International at the Bioparco as part of the new master plan. Operating within a highly constrained site filled with historically important features, this renovation integrated the area of several 100 year old bear enclosures finally allowing the bear groups access to soft substrates, running water and deep pools as well as giving the public an exciting experience of their Italian Brown Bears in a more respectful setting.

The project consists of a modern 250 m2 animal management building with flexible housing for the large collection of bears, 200 m2 off-exhibit play-yard and access to the 1500 m2 exhibit. The visitors roam from open moated views of the bears to thru- glass views at the deep water pool at the Interpretive Building where there is access to the adventure trail to the bear's den; a special viewing area for children.

The exhibit is part of the Mediterranean Mountain zone of the zoo which will be comprised of exhibits for Italian Wolf, Abruzzo chamois, Golden eagle, Eagle owl and Mute swans and Pelican on the zoo's central lake. The interpretive focus will highlight Italy as a hot spot for global biodiversity.

This project was undertaken in association with an Italian architectural team lead by Giacamo Bessio and the Bioparco staff and advisors. Ursa International was in charge of conceptual and preliminary zoological and site planning, including biological programming and husbandry.