Black Bear at Yukon Creek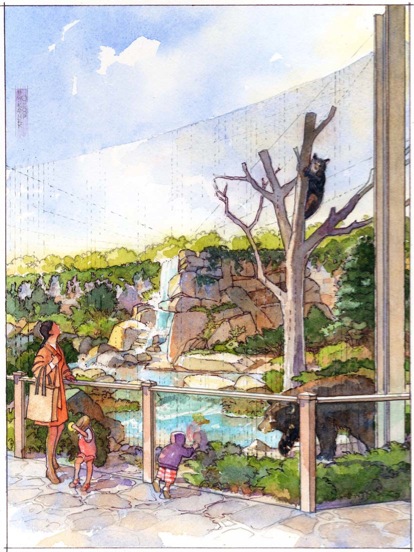 Stone Zoo, Stoneham, Massachusetts
Black Bear at Yukon Creek, 2008

The Black Bear Exhibit is a renovation of the 1950's Polar Bear exhibit at Stone Zoo. The site is located off one side of the old Large Mammal House, set between the "Treasures of the Sierra Madre" - Mexican highlands exhibit, and the "Yukon Creek" - North American woodland exhibit. The existing Polar Bear exhibit had a 20' deep concrete dry moat with a 25' radius land area for the bears to live on. The standards for Polar Bears have changed significantly since this exhibit was built, that now a new species needed to be considered. The Zoo decided to re-design for Black Bear and create a new habitat within this limited area.

To do this we filled in the dry moat and existing rectangular pool, with natural substrates, and created a waterfall, stream and two pools for the bears to play in. Then we used the existing concrete moat walls to secure large I-beams which carried the load for a stainless steel mesh and cable structure. Rocks and conifers, deadfall and mulch beds, and the Bears moved in.

This renovation took a 1,000 sf. Polar Bear dry moated exhibit to a 4,000 sf. x 13' tall, Black Bear mesh enclosure. During construction, additional funding was provided to add a glass viewing blind instead of viewing through the mesh. This dramatic change took the exhibit into the a modern realm with close-up/nose-to-nose experience. Major modifications were made inside the old Polar Bear holding to allow more visibility and training and enrichment opportunities in the holding area. On exhibit, at the exhibit service access gate, a special keeper training station was provided for Keeper Talks and daily enrichment sessions for the bears, directly adjacent to the viewing blind.

In the end, the zoo was able to bring back an old favorite species in a new, appropriately sized exhibit in place of an undersized exhibit, in an ideal location, in the Yukon Creek/Northern Woodland exhibit sequence. Within five months, the zoo was able to create a new marketing product, with limited public and private funding sources, that is kid friendly and that showcases the zoo's mission of 'intimate experiences with native animals'.