Treasures of the Sierra Madre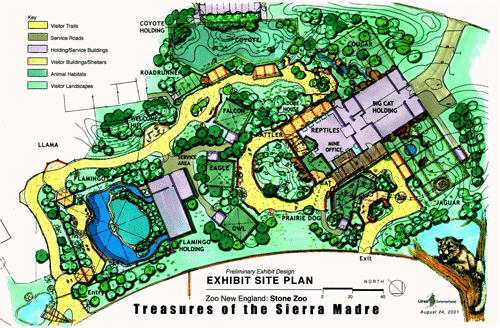 Badges, we don't need no stinkin' badges!

Ursa International teamed with Cemrock Landscape to provide Design/Build services for the Exhibit Design portion of a project at the Stone Zoo. The project had a conceptual design but lacked a cohesive look and feel. It was our task to coordinate the architects and engineers in an effort to provide comprehensive design services for the client.

The project depicts the high desert habitat of the Huichol Indian of Northern Mexico and the Miners as seen in the Movie "Treasures of the Sierra Madre". We were able to interpret the landscape, local culture, animal species and the mining industry.

Our Master Plan for the zone included a transect from the Caribbean Coast with Flamingos and other shore birds, into a hilly grasslands with roadrunner and coyote, into the high desert mountain habitats of the Cougar and three raptor enclosures. An abandoned adobe homestead provides niche habitats for small reptiles, amphibians and a special nocturnal exhibit for a Ring-tail Cat (Cacomistle). The trail continues into a Mining Camp with an 'mine shaft' with an exhibit for Vampire Bats and Fruit-eating Bats. Additional small mammals and Reptile enclosures are set in a "Mine office" re-creation with a prairie dog town nearby. The final exhibit depicts a Silver Mine with real mining equipment including a buckboard that provides a place where children get close-up views of Jaguar.

We were able to complete most of the Master Plan within the first phase. The Flamingo Aviary and Prairie Dog exhibit were never built, instead the zoo's llamas graze in the grasslands at the entry and the Mining Camp provides a unique special events area at the exit.

One of the successes of this project stems from the blending of a diverse interpretive and artifact package that relate to the animals habitats with the peoples of the region, both native and colonial. The other success is of course a great animal collection.