Complex Carnivore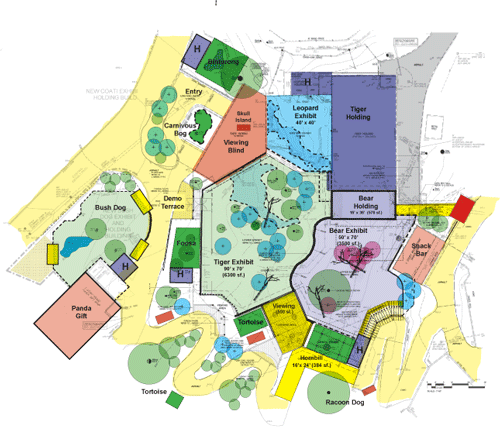 Site Exhibit Plan

Complex Carnivore Complex

The Carnivore Complex is a two-phase renovation of the Sumatran Tiger Exhibit designed by Nevin (while at CLR) in 1992 with a small mesh topped habitat for cubs and Mom, and a large fenced enclosure for the adults. The Zoo had at that time programmed an open air building with shade and sun areas, and warmed dens and keeper areas. By 2010 (actually before) it was agreed that the Sumatran Tigers would like some HVAC and skylights.

This project began with the goal of enclosing the building and adding other Carnivore species. After much searching and debate, the zoo decided on Malayan Sun Bears. A new 18' x 40' holding building was added on the ground floor adjacent to the renovated tiger holding, and a 20' tall serpentine concrete block wall divided the two habitats.

The Bird department brought a pair of Wreathed Hornbill that had been living off exhibit for over 10 years, into the mix with a 16' x 24' aviary and 8'x 20' winter quarters adjacent to the Sun Bear Habitat - with viewing through the aviary into Bear.

New visitor viewing areas provides for a variety of viewing types including, a central trellised area with glass viewing into Tiger, Bear and Hornbill, two (steel) bamboo barriers for a unique experience, as well as a new covered Overlook above the new Bear Holding, themed as a Thai mountain house with open viewing through screening of the bear and tiger. Additionally, the tiger service gate opens up as a training panel for demonstrations.

Other themes where developed by the Education Department to discuss Asian pet trade, bush meat, and conservation efforts as well as the story of the various bear species and tiger species around the world for comparisons. Several Endangered Tortoise species are displayed with close-up viewing opportunities.

The exhibit evolved into an opportunity area to display several other carnivore species and interpret various small mammals that the zoo was lacking. Phase II is underway with additional habitats for Binturong, Coati, Fossa and Bush Dog.

Ursa worked with the Zoo to establish the concept design and hire the architectural team, and continued on as the Exhibit Designer/Landscape Architect and Cage Master for the project.