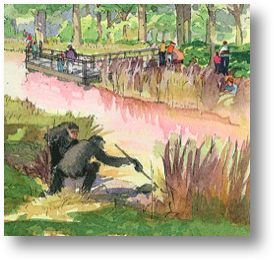 Ursa offers strong leadership in planning and building tomorrow's conservation/education facilities in National Forests, National Parks, Zoos, Museums, Aquariums, Botanical Gardens, Private Wildlife Reserves and Nature Centers, worldwide.
Ursa works with individuals, villages, towns, and cities to unite the human community with both development and preservation of local natural habitats.
Ursa is particularly skilled in implementing a "team approach" to achieve client's goals for complex projects. We collaborate with selected professionals, assembled from a wide range of disciplines, to maximize creativity and effectiveness.
Please follow the links below to some of Ursa's special areas of interest & services:
Concept Planning
Master Planning
Zoological Design
Peace Master Plans
Peace Education
Ecotourism Planning