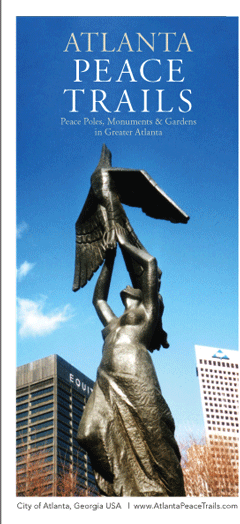 Giving Peace a Chance in Atlanta
Atlanta Peace Trails (APT) is a map booklet of Peace Poles "May Peace Prevail On Earth"™, Peace Gardens, and Peace Monuments around the greater Atlanta area. To encourage walking, biking and riding the mass transit system called MARTA, the team of Carla Smith - Atlanta City Council Member for District 1, Dr. Gail Lash with TourismForPeace.org, Andrea Kay Smith with PartnershipsInPeace.org, and Don Grant with CraftLLC.com, has produced this booklet.
We have currently documented 39 Peace Poles, Gardens, and Monuments in greater Atlanta. Peace Poles have been planted at places like Georgia Aquarium, Zoo Atlanta, Little Five Points, FCS Urban Ministries, Atlanta Friends, Hillside Chapel, Phoenix & Dragon Bookstore, Simpsonwood Center, East Lake Commons, High Meadows School in Marietta, Champion Theme Middle School in Stone Mountain. and Columbia Middle School in Decatur. Peace Gardens and Monuments are featured at Five Points MARTA station, Woodruff Park, Carter Center, MLK, Jr. Center, Piedmont Park, and more.
Bradford, England created a Peace Trail map of their city which was given to Atlanta from Dr. Peter van den Dungan, a Professor of Peace Studies at Bradford University.
In 1990 when Andrea planted her first Peace Pole, she took a picture of the group who planted it, and then sent it to the World Peace Prayer Society. They used that photo on their brochures and promotional material for ten years. It fulfilled a dream which Andrea had that one day, one of her photographs would go around the world. This picture did just that.
Please download the map booklet as a high-resolution large (40 MB) pdf file from this
blue
button: