Picnic Grove and Great Lawn
Oklahoma City Zoo and Botanical Garden
Oklahoma City, Oklahoma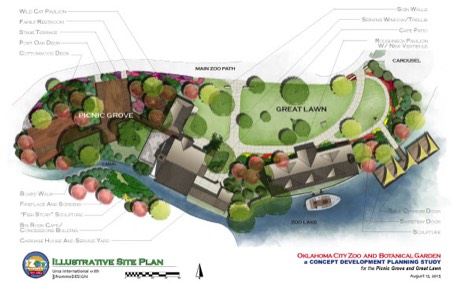 Ursa International and Tres Fromme of 3fromme Design, a Botanical Garden Designer from Atlanta were invited to develop a plan for the Oklahoma City Zoo. The original zoo area has many areas that need upgrading including their very important Picnic Area. While it functions for large corporate events and groups, it is loved to death and needs a facelift.

The design of the Picnic area is divided into two major areas; Picnic Grove and Great Lawn. The Picnic Grove half of the site, is covered with a stand of Oak trees and compacted soils. Our solution developed two large interconnected deck structures that provide seating for hundreds of guests in the shade of the wonderful Oaks. The Great Lawn is a sunny, underutilized location behind an old concessions cafe. By replacing the Lunch Cafe in the existing Concessions buildings in the center of the site, we can remove the old Cafe, open up the open lawn area as a flexible seating area in front of two large open historic pavilions that can ground the Great Lawn and provide a major hub for special events programming. The Concessions building make over will allow for new Restroom (family rooms) facilities, Cafe serving and production kitchen, Service yard and storage areas as well as maintaining a catering Kitchen for the Pavilions.

Overall, the project will accommodate the largest groups (3000 people) to the individual guests either bringing their own food and purchasing food and beverages from the Cage. All this in a new Garden setting that will offer another new venue for special gardens for Weddings and other special events on the edge of the zoo's lake. Ursa and 3frommedesign developed the concept plan for this area, cost estimates and 3D renderings for fundraising purposes. The project is currently being integrated into the new Events Center (old Pachyderm building) project and will provide the zoo with an outdoor venue for a relaxing meal or evening event at the Zoo.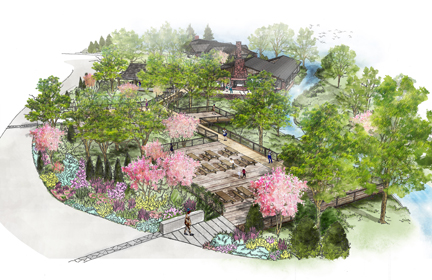 View from the South across the Picnic Grove decks and gardens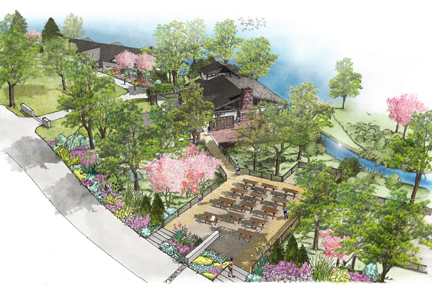 View from the Southwest across the Picnic Grove decks and gardens with renovated Concessions building and Pavilions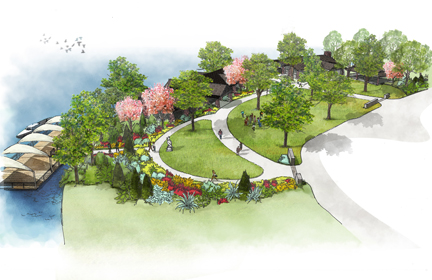 View from the North at the Great Lawn and floating docks and Gardens